West African bloc prepares to send troops into Mali and Guinea-Bissau
(Read article summary)
Two separate military coups in Mali and Guinea-Bissau threaten the stability of the region. But will an intervention by ECOWAS actually resolve these conflicts or just complicate them?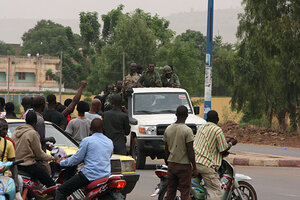 Harouna Traore/AP
As military junta leaders in Mali struggle to retain control, West Africa's group for trade, the Economic Community for West African States, is preparing to send in troops to protect citizens and oversee a transition of power back to civilian rule.
At a leadership summit held in Dakar, Senegal on Thursday, ECOWAS announced it was also preparing to send troops to the West African country of Guinea-Bissau, where another military coup toppled the civilian government of President Raimundo Pereira and his prime minister, Carlos Domingos Gomes, Jr.
While the coup in Mali has drawn the most attention – with Tuareg separatist rebels taking advantage of the disarray to effectively take control of northern Mali – the two separate coups together threaten the security of the entire region, says Ivory Coast President Alassane Ouattara, the current chair of ECOWAS.
"We would like for all the new Malian leaders to work together for a reunified Mali,'' said Mr. Ouattara, who himself came to power through foreign intervention. Ouattara won Ivory Coast's Nov. 2010 elections, but the incumbent President Laurent Gbagbo refused to step down, and launched a four-month civil war that killed thousands. French peacekeepers stationed in Ivory Coast provided air support while troops loyal to Ouattara swept through the country and arrested Gbagbo in his palace.
---