Good Reads: How South Sudan was born, how journalism must change
(Read article summary)
This week's best pieces include a stunning series on the men and women who helped South Sudan gain independence, how India duped the world, and what journalism's central goal should (still) be.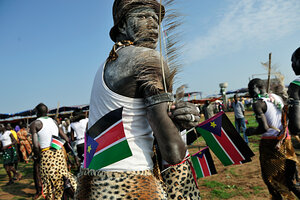 Shannon Jensen/AP
For those who follow the births of nations, this was a pretty big week. South Sudan celebrated its first year as an independent nation, after formally seceding from a unified Sudan in July 2011.
The birth wasn't an easy one. Boundary disputes between Khartoum and Juba broke out almost immediately, as did arguments over how much South Sudan should pay the north for the service of pumping southern oil out to international markets at Sudan's main port city, Port Sudan. Minor skirmishes have turned into major battles. The number of displaced people has swelled into the tens of thousands.
And yet, the story of how South Sudan came into being is a remarkable one, wrapped around the personal stories of human rights activists, academics, and political players who helped the South Sudanese sell their story to the men and women in Washington, D.C., who could give the idea the political and financial backing that it needed to survive.
Rebecca Hamilton, a Sudan expert and sometime writer for the Monitor, writes for Reuters a marvelous series about these hidden players, and how they made President George W. Bush, members of Congress, religious activists, and modern-day abolitionists care about a country that, at that point, still wasn't on the map.
---