The real danger for South Africa after Lonmin mine shooting
(Read article summary)
Police shooting of 34 protesting mine workers has shocked South Africans, but the growing economic frustration that the miners' strike underscores does not equal growing support for the ruling ANC's rivals.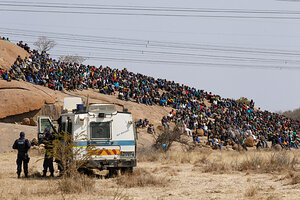 Siphiwe Sibeko/Reuters
The shooting of 34 protesting mine workers by South African police has shocked a nation whose leadership sprung from the organized labor movement, and sees itself as the ultimate protector of workers' rights.
Video images of South African police firing straight into crowds of stick- and machete-wielding protesters spread like wildfire over social media and South African news channels, and brought painful comparisons with the previous apartheid government's common use of extreme force with demonstrators. The difference here, of course, is that the apartheid government had represented the interests of a white minority, while the current African National Congress government projects itself as representing a multiracial majority.
Reuters news agency quoted South African police chief Riah Phiyega as justifying the use of live ammunition against the armed protesters, adding that two guards at the mine had been hacked to death by protesters at the mine on Tuesday.
"The police members had to employ force to protect themselves from the charging group," Ms. Phiyega told a news conference.
It is tempting to draw comparisons between the Lonmin Platinum mine shooting and earlier police massacres, such as the 1960 Sharpeville shooting (in which at least 50 pro-democracy protesters were gunned down) or the 1976 Soweto riots (in which 360 student protesters were killed). Even the most crucial difference here – the skin color of the apartheid and ANC governments – makes the comparison more compelling. Shouldn't a black-majority government have avoided the deadly-force tactics against a crowd of black protesters?
---