Good Reads: Hillsborough, rural Russians, and chasing dreams of spaceflight
(Read article summary)
This week's long form good reads include a recounting of the Hillsborough disaster in Sheffield, insights into the political thinking of rural Russians, and the Dream Chaser spaceplane's history.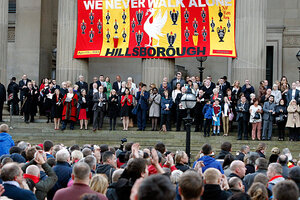 Peter Byrne/AP
Few events resonate in the British sporting consciousness like the Hillsborough disaster at Hillsborough Stadium in Sheffield, England, on Apr. 15, 1989. Thousands of fans of the visiting Liverpool soccer club filled the overcrowded stands – little more than cages in that era – in such numbers that they were crushed against the 10-foot-tall metal fences, killing 96 people and injuring hundreds more.
The official line had always been that rioting fans were to blame for causing the crush – much to the frustration of the victims' families. But last Wednesday [9/12], after a three-year investigation of the disaster, the Hillsborough Independent Panel announced that the disaster was the result of a "failure in police control." Moreover, the police had been involved in a massive cover-up to hide that fact, altering more than 116 police statements and telling a local news outlet that ticketless, drunk, violent fans were running rampant at the stadium.
The level of anguish over Hillsborough – and the catharsis provided by the new report – may be hard to grasp for those unfamiliar with it. But The Daily Mirror's Brian Reade, who was at the stadium that day, provides a wrenching, easily understandable account of the disaster. He traces both the events of the day – the growing crush, the dawning realization of what was happening, the doomed efforts of rescuers – and the following years, as victims' families sought justice in the aftermath. His account lets newcomers easily understand why the disaster has such resonance.
---