Earthquake supplies: Why Haiti may turn tide of cholera outbreak
Earthquake supplies brought into Haiti after the Jan. 12 quake include medical and sanitation supplies to stop or battle any cholera outbreak. Health officials in St. Marc saw a drop in cases Saturday.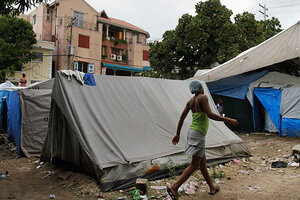 Dieu Nalio Chery/AP
Five cholera patients have been reported in Haiti's capital, heightening worries that the disease could reach the sprawling tent slums where abysmal hygiene, poor sanitation, and widespread poverty could rapidly spread it. But government officials said Sunday that all five apparently got cholera outside Port-au-Prince, and they voiced hope that the disease could be confined to the rural areas where the outbreak originated last week.
"It's not difficult to prevent the spread to Port-au-Prince. We can prevent it," said Health Ministry director Gabriel Timothee. He said tightly limiting movement of patients and careful disposal of bodies can stave off a major medical disaster.
The cholera outbreak has left 250 people dead and more than 3,000 ill.
Cholera is typically contracted through drinking contaminated water. Health officials say education - teaching people good hygiene - can prevent its spread. Also, since the Jan. 12 earthquake, which killed as many as 300,000 people, aid workers say that they have been prepared for the possibility of an outbreak of the disease. There are large supplies of antidote on hand.
---