Pippa Middleton receives unwanted attention from paparazzi
Pippa Middleton won widespread praise for her Alexander McQueen dress at the royal wedding, but it's what she wore before the wedding that has the paparazzi clamoring for more and the royal family asking for legal intervention.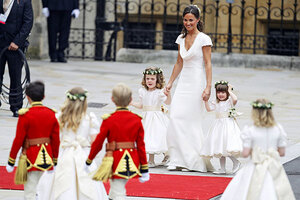 Alastair Grant/AP
As Prince William and Kate Middleton honeymoon in a secluded spot, the paparazzi who stalk them are back in the spotlight.
There's a brewing legal battle over publication of 5-year-old photographs of bridesmaid Pippa Middleton sunbathing topless, and anger about gruesome photographs of the late Princess Diana in the moments after her 1997 car crash appearing in a documentary about her death.
The publication of the Pippa pictures — showing the 27-year-old on a powerboat with older sister Kate (in a revealing bikini) and William (in a red and white bathing suit) — prompted the Middleton family to file a formal petition to Britain's independent Press Complaints Commission.
That complaint is seen as the first salvo in what is expected to be a conflict between the monarchy and the press as both sides try to establish boundaries in a new royal era defined by William and Middleton, now the Duke and Duchess of Cambridge, and their determination to live a normal life.
The prince and his bride jetted off this week to a secret honeymoon spot that royal watchers believe was chosen specifically to keep them out of the lenses of the paparazzi.
"That and security would have been of primary importance," said Joe Little, managing editor of Majesty magazine. "We've known for a long time William would not stand for any nonsense regarding his new wife and her family."
---