Saudi crown prince dies, leaving succession uncertain
The younger brother of King Abdullah was in his 80s, and there is no formal method to name a replacement from the sprawling royal family.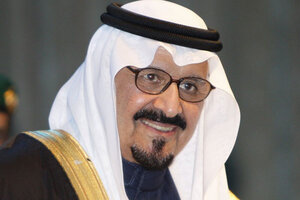 Hassan Ammar/AP/File
The heir to the Saudi throne, Crown Prince Sultan bin Abdul-Aziz Al Saud, died undergoing treatment for illness in New York. The death of the prince, who was in his 80s, opens questions about the succession in the critical, oil-rich U.S. ally.
Sultan was the younger half-brother of Saudi Arabia's King Abdullah, who is has also been ailing and underwent back surgery last week.
The most likely candidate to replace Sultan as Abdullah's successor is Prince Nayef, the powerful interior minister in charge of internal security forces, who is said to be closer to Islamic conservatives than the king. The king gave Nayef — also his half-brother — the implicit nod in 2009 by naming him second deputy prime minister, traditionally the post of the second in line to the throne.
State TV announced that Sultan died abroad, without specifying where. Saudi official circles in Riyadh said he passed away at a hospital in New York. According to a leaked U.S. diplomatic cable from January 2010, Sultan had been receiving treatment for colon cancer since 2009.
Sultan, who was also deputy prime minister and defense minister, struggled with health issues for years, though officials never confirmed he had cancer. He underwent surgery in New York in 2009 and spent nearly a year abroad recuperating in the United States and at a palace in Agadir, Morocco, before returning to the kingdom.
---