Thailand floods leave Bangkok thirsty
Thailand's floods left many in Bangkok without drinking water. Flooding triggered panic buying that has emptied Bangkok's supermarkets of bottled water.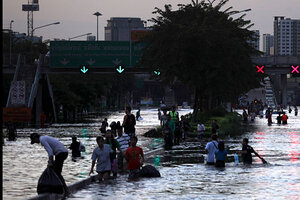 (AP Photo/Altaf Qadri)
As Thailand's capital braces for a surge of water, its residents are fighting to both keep it at bay and find enough of it to drink.
The worst flooding in half a century has triggered panic buying that has emptied Bangkok's supermarkets of bottled water. With some highways submerged and major production plants shut down, drinking water is fast becoming a precious commodity.
Supermarkets are racing to find new producers and import crates of bottled water because most plants supplying the city of 12 million people are located in central provinces, some of which are under two meters of water.
"The water shortage right now is critical," said Patchara Rattakul, chief operating officer of Haad Thip Pcl, which distributes Thai Nam Thip water in Thailand.
"I agree with the government's policy to import water from outside to solve the short-term problem -- we have no other choice," he told Reuters.
Shares in Haad Thip, which has a franchise from Coca-Cola, surged more than 6 percent Wednesday on expectations the company would benefit from the extra demand.
Supermarkets in the capital are rationing instant noodles, rice and eggs, but bottled water is nowhere to be seen, with crates of beer now filling swathes of empty shelf space.
While tens of thousands of people have taken advantage of a special five-day holiday and fled the capital, others have been doing shuttle-runs in pickup trucks to stock up on bottled water from eastern towns like Pattaya and Chon Buri.
Serm Suk Pcl, a maker of Pepsi and Crystal drinking water, closed its plants in Nakhon Sawan and Pathum Thani on October 20 due to the floods. The two provinces are among the worst affected.
DEMAND SKYROCKETING
---