Turkey earthquake: Rescued teenager lifts spirits of a nation
Turkey earthquake: Five days after a 7.2 earthquake shook eastern Turkey, rescue workers pulled a 13-year old boy alive from a collapsed building.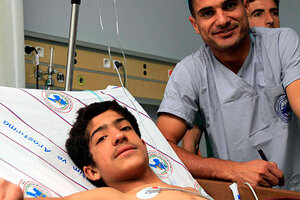 REUTERS/Ahmet Izgi/Anadolu Agency
Rescue workers pulled a 13-year-old boy alive out of the rubble of an apartment block on Friday, five days after a powerful earthquake that killed at least 570 people in eastern Turkey.
"It is a great miracle," Neriman, the boy's 34-year-old mother told Reuters. "He told me he prayed and when he said all his prayers and there were no more left he recited the national anthem."
The rescue lifted Turkish spirits as thousands of quake survivors endured a fifth freezing and wet night without a roof over their heads, and recriminations flew over the pace of relief and the shoddy construction that led to so much damage.
The boy, Ferhat Tokay, was put in a neck brace and taken on a stretcher to a waiting ambulance after being rescued in Ercis, the town hardest hit by Sunday's 7.2 magnitude quake, television images showed.
"We started digging and at first we saw his hand. And then we started speaking to him. He said 'I am hungry and thirsty'," an exhausted but elated medic, Baris Dogan, told Reuters.
"It was like taking my own son out."
Doctors at the hospital in Van, where he was taken, said the boy's condition was relatively good. A few steps away in the intensive care unit, relatives of other quake victims broke down in tears as doctors gave them bad news about their loved ones.
Tokay was rescued from the first floor of a collapsed seven-storey block of flats where he lived with his family on the main street in Ercis, opposite a mosque whose minarets had collapsed.
Around 50 people dug on through the rubble in the hope of finding more people alive. As many as 10 were still missing from the building but there were no immediate signs of life.
Tokay was rescued hours after an 18-year-old man was brought out late on Thursday to cheers among grief-stricken quake survivors.
"SHODDY BUILDINGS"
People left homeless by the quake in the predominantly Kurdish eastern province of Van have complained bitterly over the slow delivery of relief items like tents.
---