EU bans buying oil from Iran: How will Iran respond?
Iran threatened a blockade of the Strait of Hormuz in response to a new European Union ban on oil from Iran. Iran says it's considering an immediate shut off of oil to Europe.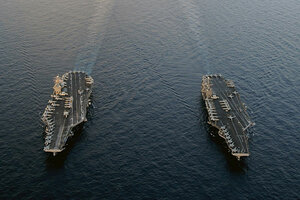 REUTERS/U.S. Navy/Chief Mass Communication Specialist Eric S. Powell
The European Union banned imports of oil from Iran on Monday and imposed a number of other economic sanctions, joining the United States in a new round of measures aimed at deflecting Tehran's nuclear development programme.
In Iran, one politician responded by renewing a threat to blockade the Strait of Hormuz, an oil exporting route vital to the global economy, and another said Tehran should cut off oil to the EU immediately.
That might hurt Greece, Italy and other ailing economies which depend heavily on Iranian crude and, as a result, won as part of the EU agreement a grace period until July 1 before the embargo takes full effect.
Recommended: A briefing on Iran sanctions
A day after a U.S. aircraft carrier, accompanied by a flotilla that included French and British warships, made a symbolically loaded voyage into the Gulf in defiance of Iranian hostility, the widely expected EU sanctions move was likely to set off further bellicose rhetoric in an already tense region.
Some analysts say Iran, which denies accusations that it seeking nuclear weapons, could be in a position to make them next year. So, with Israel warning it could use force to prevent that happening, the row over Tehran's plans is an increasingly pressing challenge for world leaders, not least U.S. President Barack Obama as he campaigns for re-election in November.
---