Serena falls at Australian Open; Djokovic, Wozniacki advance
Serena Williams of the US was knocked out of the Australian Open in the fourth round Monday. Meanwhile, both Novak Djokovic and Caroline Wozniacki have moved into the quarterfinals.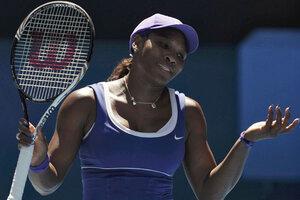 Darren Whiteside/REUTERS
All Serena Williams had to do was look at the numbers for an explanation of her stunning loss in the fourth round at the Australian Open.
Seven double-faults, including four in one game; 37 unforced errors, and a first-serve percentage of just over 50 percent Monday that had her convinced "maybe I should have started serving lefty."
Some other numbers indicated why her 6-2, 6-3 loss to Russia's Ekaterina Makarova on what she admitted was a still-sore left ankle was more of a shock, particularly at this stage of the year's first major.
She has played 43 singles matches at Melbourne Park since she won the first of her five Australian Open titles in 2003, and Monday's loss was just her third. She's 54-7 since playing here for the first time in 1998, and she hasn't gone out this early here since 2006.
"I'm not physically 100 percent, so I can't be so angry at myself, even though I'm very unhappy," Williams said. "I know that I can play a hundred times better than I did this whole tournament."
Without Williams, who injured her left ankle in Brisbane two weeks ago, the only major winners still in contention were Maria Sharapova, defending champion Kim Clijsters and Wimbledon winner Petra Kvitova.
---