Anonymous hacks FBI email, eavesdrops on call to Scotland Yard
Anonymous hackers listened to a sensitive conference call between the FBI and Scotland Yard that discussed strategy for dealing with a hacking case.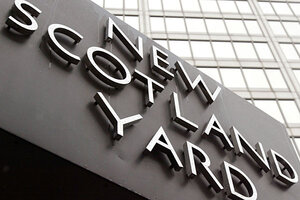 (AP Photo/Jane Mingay)
A sensitive conference call between FBI and British police's cybercrime investigators was recorded by the very people they were trying to catch, officials and hackers said Friday.
Hacking collective Anonymous published a roughly 15-minute-long recording of a conference call apparently devoted to tracking and prosecuting members of the loosely-knit group.
The FBI said the information "was intended for law enforcement officers only and was illegally obtained."
RELATED: Eight steps to protect your Gmail account
"A criminal investigation is under way to identify and hold accountable those responsible," the bureau said in a statement.
It's not clear how the hackers got their hands on the recording, which appears to have been edited to bleep out the names of some of the suspects being discussed.
"The FBI might be curious how we're able to continuously read their internal comms for some time now," the group gloated in a message posted to Twitter.
Amid the material published by Anonymous was a message purportedly sent by an FBI agent to international law enforcement agencies. It invites his foreign counterparts to join the call to "discuss the ongoing investigations related to Anonymous ... and other associated splinter groups." The email contained a phone number and password for accessing the call.
The email is addressed to officials in the U.K., Ireland, the Netherlands, Sweden and France, but only American and British officials can be heard on the recording.
---