Two Iranians detained, one still sought, in Bangkok bombings
One Iranian man was wounded by an explosion Tuesday in Bangkok. A house of undetonated explosives was found. Another Iranian man was detained at the Bangkok airport. Police are looking for a third man.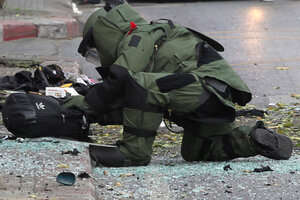 (AP Photo/Apichart Weerawong)
An Iranian man was seriously wounded in Bangkok on Tuesday when a grenade he was carrying exploded and blew one of his legs off. Israeli officials said that said the incident was another attempted terrorist attack by Iran.
Shortly before the man was wounded, there had been at least one explosion in a house three men were renting in the Ekamai area of central Bangkok. Soon after that, there was a third blast on a nearby road, Thai police and officials said.
"The police have control of the situation. It is thought that the suspect might be storing more explosives inside his house," Thai government spokeswoman Thitima Chaisaeng told reporters.
RECOMMENDED: Four assassination plots blamed on Iran
Thai media have quoted police sources as saying that an accidental explosion at the house triggered Tuesday's events. The three men tried to flee, fearing discovery, and one tossed a grenade at a taxi driver and another at Thai police.
Police later said they had apprehended another Iranian suspect at Bangkok's main Suvarnabhumi airport, one of two men they were looking for who had been living at the house where the initial blast took place.
"We discovered the injured man's passport. It's an Iranian passport and he entered the country through Phuket and arrived at Suvarnabhumi Airport on the 8th of this month," Police General Bansiri Prapapat told Reuters.
---