Debris from tsunami to reach West Coast, join Great Pacific Garbage Patch
The Great Pacific Garbage Patch will soon include debris from the Japanese tsunami, while one million to 2 million tons of lumber, construction material, refrigerators, TVs, fishing boats and other fragments from Japanese coastal towns make their way across the Pacific.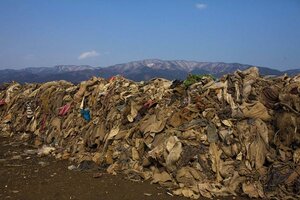 David Guttenfelder/AP
Refrigerators, TVs and other debris dragged into sea when a massive earthquake hit Japan last March, causing tsunamis as high as 130 feet (40 meters) to crash ashore, could show up in remote atolls north of Hawaii as soon as this winter, with other pieces reaching parts of the West Coast in 2013 and 2014, experts say.
Debris from the tsunami initially formed a thick mass in the ocean of Japan's northeastern coast. But ocean currents have dispersed the pieces so they're now estimated to spread out some 3,000 miles halfway across the Pacific.
The National Oceanic and Atmospheric Administration said Tuesday the first bits of tsunami debris are estimated to make landfall this winter on small atolls northwest of the main Hawaiian Islands. Other pieces are expected to reach the coasts of Oregon, Washington state, Alaska and Canada between March 2013 and March 2014.
---