Iran goal: To build a nuclear bomb in 60 days, says Israel minister
Iran is working toward a 'threshold status' of being able to produce a nuclear bomb with 60 days notice, says Israeli Defense Minister Ehud Barak. Debate in Israel over Iran's nuclear aims continues.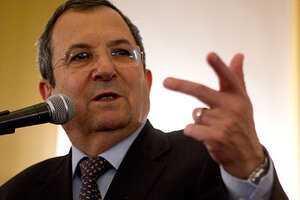 (AP Photo/Ariel Schalit)
Iran's nuclear strategy could eventually allow it to build an atomic bomb with just 60 days' notice, Israeli Defense Minister Ehud Barak said on Friday.
His remarks elaborate on long-held Israeli concerns that Iran is playing for time even as it engages world powers in negotiations aimed at curbing its uranium enrichment drive. Talks are due to resume in Baghdad on May 23.
"They are currently trying to achieve immunity for the nuclear program," Barak told the Israel Hayom newspaper.
"If they arrive at military nuclear capability, at a weapon, or a demonstrated capability, or a threshold status in which they could manufacture a bomb within 60 days - they will achieve a different kind of immunity, regime immunity."
RECOMMENDED: 5 key sites in Iran's nuclear program
Iran insists that its often secretive uranium enrichment is for peaceful energy and medical needs. At higher levels of purification, such projects can yield fuel for warheads, but Israel and the United States agree Iran has not taken that step.
The International Atomic Energy Agency (IAEA) last year issued a report detailing alleged Iranian research and development activities that were relevant to nuclear weapons, lending independent weight to Western suspicions.
---