David Beckham escorts Olympic flame upon arrival in UK
David Beckham will take the Olympic flame at a ceremony Friday when the flame arrives from Greece. Then, the Olympic flame will go on a 70-day, 8,000-mile relay around England ahead of the 2012 London Olympics.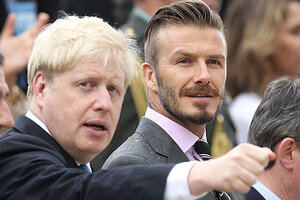 AP Photo/Thanassis Stavrakis)
David Beckham wants two things: the flame to burn right and a spot on Britain's Olympic team.
The former England national team captain and Los Angeles Galaxy star will light a cauldron at a ceremony Friday when the flame arrives in southwestern England from Greece on the eve of a 70-day torch relay for the 2012 London Olympics.
"I hope it lights," he said with a chuckle.
Beckham, Princess Anne and London organizing chairman Sebastian Coe are escorting the flame, a symbol of peace and unity that harkens back to the origins of the games in ancient Greece.
IN PICTURES: Countdown for the 2012 Olympics
Beckham been involved in the London Games since the organizing committee launched its successful bid in 2005m and the 37-year-old is excited about the chance to welcome the world to his "hood" in east London.
---