After Houla massacre, Syrian diplomats expelled around the world
France, Britain, Canada, Germany, Italy, Spain, and Australia are expelling Syrian diplomatic envoys. The response to the Houla civilian massacre is increasing Syria's isolation.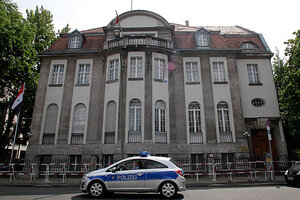 REUTERS/Tobias Schwarz
Peace envoy Kofi Annan expressed "grave concern" to Syria's President Bashar al-Assad on Tuesday while Western nations threw out Syria's diplomatic envoys to protest against a massacre of 108 civilians, many of them children, in the town of Houla.
France, Britain, Canada, Germany, Italy, Spain, and Australia said they were expelling the Syrian envoys from their capitals in a move that was coordinated with the United States and underlined Assad's diplomatic isolation.
The killings in Houla drew a chorus of powerful condemnation from around the world, with the United Nations saying entire families had been shot dead in their homes.
RECOMMENDED: Three factors to watch in Syria
"Bashar al-Assad is the murderer of his people," French Foreign Minister Laurent Fabius told Le Monde. "He must relinquish power. The sooner the better." His Australian counterpart Bob Carr said: "This massacre of more than 100 men, women and children in Houla was a hideous and brutal crime."
---