Ichiro Suzuki: How Japanese fans react to Yankees uniform
Ichiro Suzuki is arguably the most famous athlete in Japan. He is revered for his stoicism, perseverance, and attention to detail. What do Japanese fans say about Ichiro Suzuki's move to New York?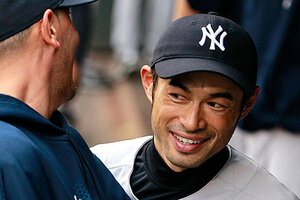 (AP Photo/Elaine Thompson)
Japan reacted to the news that Ichiro Suzuki has been traded to the New York Yankees with surprise and anticipation that the move might lead to a World Series ring.
The Yankees acquired the star outfielder from Seattle in a trade for two young pitchers, bringing a close to Suzuki's 11 1/2-year career with the Mariners.
Suzuki is the most recognizable athlete in Japan, where he is revered for his stoicism, perseverance, and attention to detail.
All the major Japanese newspapers splashed the move on the front pages of their Tuesday evening editions, with photos of Suzuki in his Yankees uniform, and it was the top item on the noon news for public broadcaster NHK.
RECOMMENDED: Are you a real baseball fan? Take the quiz
"He's the top Japanese athlete in the world, both in terms of fame and skill," said Takuya Matsuo, a 26-year-old from Yokohama. "The Yankees have a strong image, so this increases the chances he'll win a World Series. He is getting older, so he probably wanted to see if he could experience being a champion. It'll be fun to watch a fellow Japanese give it his best."
Suzuki, 38, went from the last-place team in the AL West to the first-place team in the AL East.
---