Arab nations to push UN General Assembly for resolution on Syria
After the UN Security Council failed to pass a resolution to pressure Assad last week, Arab nations have decided to push for one by the General Assembly.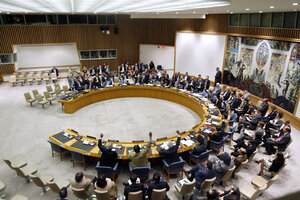 Devra Berkowitz/AP
Arab nations announced plans Wednesday to go to the U.N. General Assembly and seek approval of a resolution calling for a political transition and establishment of a democratic government in Syria following the Security Council's failure to address the escalating crisis.
Saudi Arabia's Ambassador Abdallah al-Mouallimi and Qatari diplomat Abdulrahman Al-Hamadi announced plans to seek action by the 193-member world body, where there are no vetoes, during a Security Council debate on the Middle East.
Last week, Russia and China again vetoed a Western-backed Security Council resolution aimed at pressuring President Bashar Assad's government to stop the violence by threatening sanctions if he didn't withdraw heavy weapons from populated areas within 10 days.
"The Arab states have decided to head to the General Assembly over the situation in Syria," al-Mouallimi told the council.
Al-Hamadi said the Syrian government's threat to use chemical and biological weapons, and other threats to the region, "have made us feel even further regret with the inability of the Security Council to deal with the Syrian crisis in an effective manner."
---