Congo accuses Rwanda of backing new rebellion
Congo's president has accused Rwanda of backing rebels in the east of Congo. The rebellion has forced more than 260,000 people from their homes in the past three months.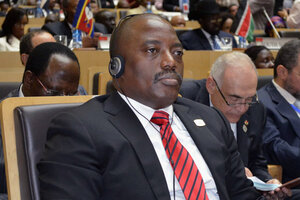 Tiksa Negeri/Reuters
Congo's president accused Rwanda of backing a new rebellion in Congo's east and called their support an "open secret."
President Joseph Kabila spoke to journalists late Saturday in a rare appearance and said that the government will investigate accusations that Uganda may also be backing the M23 rebellion in the east, though the country said it was not involved.
The uprising has brought the worst violence in years to the already volatile Congo. It has forced more than 260,000 people from their homes in the past three months. And it is draining the resources of an already overstretched $1.5 billion a year U.N. peacekeeping mission in Congo.
"Regarding the involvement of Uganda, Kampala's explanation is that they have nothing to do with it," Kabila said, adding that Rwanda's involvement is an "open secret. A U.N. report clearly shows that M23 is backed by Rwanda."
A report by U.N. experts last month accused Rwanda of helping create, arm and support the M23 rebel movement in violation of U.N. sanctions. Rwanda denies the charges.
Rwanda has come under increasing pressure, however, to halt the alleged support with the Netherlands, U.S. and Germany suspending some aid and Britain delaying a payment for budgetary support. While the amounts involved are small, the actions are considered a major rebuke of Rwanda, a darling of Western donors dependent on aid for nearly half its budget.
---