Low turnout may save Romanian president from impeachment
Romanian President Traian Basescu urged his supporters to skip the national vote because impeachment requires more than half the electorate to turn out.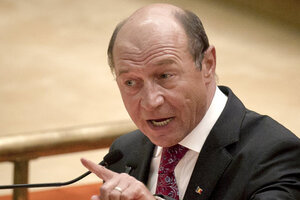 Vadim Ghirda/AP/File
Romania's unpopular president was fighting for his political life on Sunday as Romanians voted on whether to oust him, part of a political battle that has raised questions about the rule of law in the fledgling European Union member. Early indications were that he might keep his job due to a low voter turnout.
Traian Basescu's rivals in the government are seeking to push him out for the second time in five years. They claim the 60-year-old populist violated the constitution by meddling in government business, coddling cronies, and using the secret services against enemies.
Mr. Basescu, a former ship captain whose popularity has plummeted over economic challenges, says he's the victim of a political vendetta and has urged his supporters to boycott the vote — a tactic that may help him survive thanks to a rule requiring turnout to be more than half of the total electorate.
At 5 p.m. (1400 GMT) after seven hours of voting, the turnout was just 26.89 percent, according to the Central Election Bureau. That was lower than June local elections when the turnout was about 56 percent. Polls were due to close at 11 p.m. (2000 GMT) with 18 million Romanians eligible to vote, including many living abroad.
Basescu told reporters he was at peace with himself. "I have done my duty as president in a manner that sometimes pleased people and at other times did not please a large number of Romanians," he said.
---