Indian yoga guru arrested during anticorruption protest
India's police detained popular Indian yoga guru Baba Ramdev and thousands of his supporters for several hours after they tried to intensify an anticorruption protest. Ramdev and the others had occupied a New Delhi fairground for the past couple of days.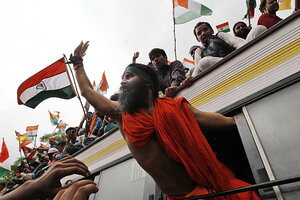 Mustafa Quraishi/AP
A popular yoga guru and thousands of his supporters were detained by police for several hours Monday after they tried to march to India's Parliament to intensify an anti-corruption protest and press for a change of government.
As he was led away by police, Baba Ramdev shouted slogans urging his supporters to fight to end India's endemic corruption and seek the repatriation of billions of dollars in illegal money he says Indians have stashed in foreign banks.
Shouting slogans
Waving Indian flags and shouting slogans, the protesters climbed into police buses parked around the sprawling New Delhi fairground that Ramdev and his supporters had occupied for the past four days.
They were taken to a city stadium, and by evening, were free to leave, said Rajan Bhagat of New Delhi police.
However, Ramdev refused to leave and asked police to provide water and food for thousands of his supporters. He said he would end his five-day-old fast only after that.
Ramdev and his supporters are likely to spend the night at the stadium.
Before the march, the bearded, saffron-clad yogi urged his supporters to throw out the ruling Congress Party and bring in a "clean" government.
"Throw out the Congress; save the country," he shouted as his followers applauded and cheered wildly.
'Government completely deaf'
---