Egypt opposition take to the street, clash with president's supporters
Compared to months of turmoil Egypt's streets have seen, the demonstrations were quieter and the number of protesters smaller. Demonstraters accuse president Mursi of seeking to monopolize power.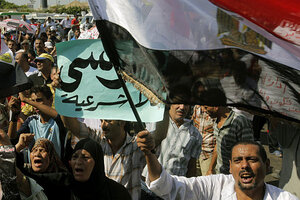 Amr Nabil/AP
Opponents of Egypt's president scuffled with his supporters on Friday during a demonstration that was billed as a test of Mohamed Mursi's popularity on the street but which managed to muster only modest numbers against his rule.
After months of turmoil and bloodshed, Egypt's streets have calmed since Mursi's June election that ended 60 years of rule by military men, a relief to Egyptians and the West, wary of instability in a nation that has a peace treaty with Israel.
Rebuilding shattered economy
But Mursi now faces the giant task of rebuilding a shattered economy and delivering better living standards to a nation of 82 million where swathes still live in dire poverty.
Egyptians had been nervous that Friday's anti-Mursi protest, flagged for several weeks, could turn violent and security was tight around the presidential palace and some other sites.
In Cairo's Tahrir Square, rival groups of youths hurled stones and bottles at each other, staging running battles in side streets. Some wielded sticks and charged opponents. Dozens also scuffled in Ismailiya, east of Cairo, a witness said.
But scenes were quieter in other areas of Cairo where Mursi's opponents gathered, and total numbers across the capital and elsewhere were relatively modest, reaching 2,000 or so rather than the seas of people who turned to unseat Mubarak or gathered in other demonstrations since then.
Liberal groups stayed away
---