Refinery explosion kills 39 in Venezuela
An explosion at a oil refinery in Venezuela on Saturday caused a huge fire, killed at least 39 people, and injured dozens.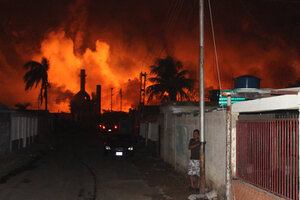 Diario El Amanecer/AP
A huge explosion rocked Venezuela's biggest oil refinery and unleashed a ferocious fire on Saturday, killing at least 39 people and injuring more than 80 others in one of the deadliest disasters ever to hit the country's key oil industry.
Balls of fire rose over the Amuay refinery, among the largest in the world, in video posted on the Internet by people who were nearby at the time. Government officials pledged to restart the refinery within two days and said the country has plenty of fuel supplies on hand to meet domestic needs as well as its export commitments.
The explosion shattered walls of nearby shops, ripped out windows from homes and left the surrounding streets covered with rubble and twisted scraps of metal.
President Hugo Chavez declared three days of mourning and ordered an investigation to determine the cause of the explosion. "This affects all of us," Chavez said by phone on state television. "It's very sad, very painful."
Vice President Elias Jaua, who traveled to the area in western Venezuela, said on state television late Saturday that at least 39 people were killed by the explosion, up from the earlier death toll of 26. He said that the dead included 18 National Guard troops and that six of the bodies had not yet been identified. Other officials said earlier that the dead included a 10-year-old boy.
In a neighborhood next to the refinery, shopkeeper Yolimar Romero said she was at her computer when a shock wave swept over the area shortly after 1 a.m.
"At that instant, the whole house shook as if it were an earthquake," she said. "The windows went flying off with their frames and everything."
---