7.6 earthquake: Tsunami alert for Philippines, Indonesia only
A 7.6 magnitude earthquake struck off the Philippines Friday destroying roads and bridges. A tsunami alert for Asia and Hawaii has been scaled back to just the Philippines and Indonesia.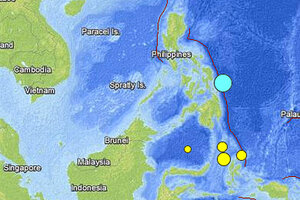 USGS
An earthquake of 7.6 magnitude struck off the Philippines on Friday destroying roads and bridges and sending people fleeing to higher ground in fear of a tsunami.
The quake was centered off the east coast, 91 miles (146 km) off the town of Guiuan in Samar province at a depth of about 20 miles (32 km), the U.S. Geological Survey said.
The Pacific Tsunami Warning Center issued a tsunami warning for much of the region, but later scaled it back leaving it in place for the Philippines and Indonesia.
RELATED: Asia's 5 most devastating earthquakes
"People are fleeing to higher ground," Samar congressman, Ben Evardone, told local radio.
A disaster agency official said residents in the area should get to higher ground immediately.
"Strong earthquake here in Taft, Eastern Samar! And it lasted very long too!" Evardone said by text message earlier. He said the quake had destroyed some roads and bridges.
---