Philippines 7.6 earthquake: One dead, tsunami alert lifted
A magnitude 7.6 earthquake struck off the Philippines coast, causing one fatality. The earthquake knocked out power in some towns, but only triggered a small tsunami.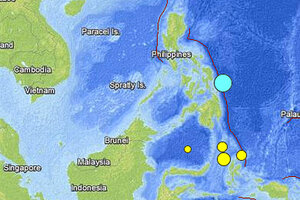 USGS
A 7.6-magnitude earthquake struck off the Philippines' eastern coast late Friday, killing one person in a house collapse, knocking out power in several towns and spurring panic about a tsunami that ended up generating only tiny waves.
The quake set off car alarms, shook items off shelves and sent many coastal residents fleeing for high ground before the Pacific Tsunami Warning Center lifted all tsunami alerts it had issued for the Philippines and neighboring countries from Indonesia to Japan, and for Pacific islands as far away as the Northern Marianas.
"It was very strong. My house was making sounds," Bemruel Noel, a member of the Philippine House of Representatives, said in a telephone interview from Tacloban city on the eastern coast of Leyte island, where the quake set off a small stampede of residents.
"You talk to God with an earthquake that strong," he said.
RELATED: 5 most devastating quakes in Asia
Tacloban resident Digna Marco said the quake toppled a figurine on top of her TV set and that her son had to hold their desktop computer to prevent it from falling to the floor. The lights over her dining room were swinging, she said.
One house collapsed in southern Cagayan de Oro city, on the main southern island of Mindanao, killing a 54-year-old woman and injuring her 5-year-old grandson, who was being treated in a hospital, said the city's mayor, Vicente Emano.
The quake generated only very small tsunami waves of about 3 centimeters (just over an inch) along the eastern Philippine coast near Legazpi city and another nearby location, the Pacific Tsunami Warning Center said.
---