Chinese rescue workers search for survivors in wake of twin quakes
Rescue efforts are underway in southwestern China after two earthquakes destroyed about 6,650 homes Friday. At least 80 people were killed.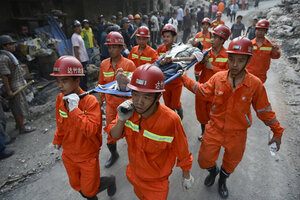 AP Photo
Rescue workers cleared roads Saturday so they could search for survivors and rush aid to a remote mountainous area of southwestern China after twin earthquakes killed at least 80 people.
More than 200,000 villagers were evacuated after Friday's quakes toppled thousands of homes and sent boulders cascading across roads in a region of small farms and mines near the border between Guizhou and Yunnan provinces, where some of China's poorest people live.
The official Xinhua News Agency quoted local officials as saying the death toll could climb further because the quakes seriously damaged roads and communications, making it difficult to collect information.
The damage also slowed rescue efforts.
"Roads are blocked and rescuers have to climb mountains to reach hard-hit villages," Xinhua quoted Li Fuchun, head of Luozehe township in hardest-hit Yiliang County, as saying.
State television said Saturday that workers had succeeded in clearing a road into the worst-hit area that had been blocked by fallen boulders, allowing rescuers and assistance in.
Rescue work was also likely to be hampered by rain forecast over the next three days. There was, however, some uplifting news: State television reported that four babies had been born in temporary hospitals set up after the quakes.
---