Jordanian militant threatens Assad regime in Syria
A militant leader in Jordan, who has been linked to al-Qaida and several high-profile attacks, warned Syrian President Bashar Assad, 'our fighters are coming to get you.'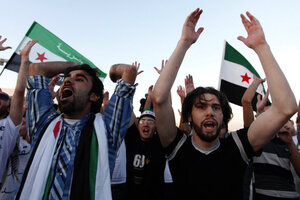 Mohammad Hannon/AP
A Jordanian militant leader linked to al-Qaida warned Sunday that his extremist group will launch "deadly attacks" in neighboring Syria to topple President Bashar Assad, as Damascus lashed out at France for backing Syrian rebels.
In a speech delivered to a crowd protesting outside the prime minister's office in Amman, Mohammad al-Shalabi, better known as Abu Sayyaf, told Assad that "our fighters are coming to get you."
Abu Sayyaf is the head of the Salafi Jihadi group, which produced several al-Qaida linked militants who fought US forces in Iraq and Afghanistan over the past 10 years. They are also blamed for the 2002 assassination of US aid worker Laurence Foley outside his Amman home.
The militant leader was himself convicted in 2004 of plotting attacks on Jordanian air bases hosting American trainers, but served his term and was released last year.
Militants linked to al-Qaida, many from Iraq but also reportedly several from Jordan, are believed to have made inroads among Syrian rebels as the civil war their intensifies.
---