Tensions rise between China and Japan over disputed islands
Sporadic, violent protests against Japanese businesses broke out across China this weekend after the Japanese government announced that it had purchased from private Japanese owners islands that are claimed by China.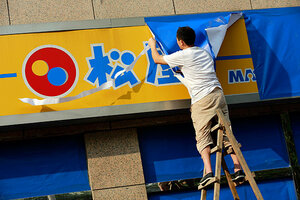 Eugene Hoshiko/AP
Chinese are trying to hurt Japan economically for leverage in a bitter dispute over contested islands, turning to angry protests and calls for boycotts of Japanese businesses, abetted in part by China's government.
Sporadic protests in China over the past week became larger and at times violent and spread to at least two dozen cities over the weekend. Protesters torched a Panasonic factory and Toyota dealership in the eastern port of Qingdao, looted a Heiwado Co. department store in the southern city of Changsha and ransacked Japanese supermarkets in several cities. Though larger numbers of police imposed more order on demonstrations Sunday, they fired tear gas to subdue rowdy protesters in the southern city of Shenzhen. In nearby Guangzhou city, protesters broke into a hotel that was next to the Japanese Consulate and damaged a Japanese restaurant inside.
Japan has demanded that China ensure the safety of Japanese citizens and businesses. "Unfortunately, this is an issue that is impacting the safety of our citizens and causing damage to the property of Japanese businesses," Japanese Prime Minister Yoshihiko Noda told NHK, Japan's public broadcaster, on Sunday.
---