Morsi says under his rule Egypt will be more independent from US
Mohammed Morsi, president of Egypt expressed his intent to rule a more independent Egypt, less beholden to Western and American standards than it was under ousted leader Hosni Mubarak.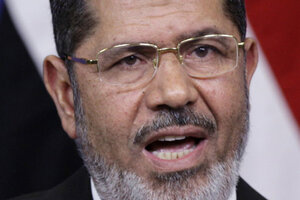 Virginia Mayo/AP/File
On the eve of his first visit to the United States as Egypt's president, Islamist Mohammed Morsi said he will demonstrate more independence from the US in decision-making than his predecessor Hosni Mubarak and told Washington not to expect Egypt to live by its rules.
Morsi sent that message in an interview with the New York Times after a wave of violence erupted across the Muslim world over an amateur film produced in the US that was deemed offensive to Islam and its prophet Muhammed. The film raised news tensions between Washington and Egypt.
Morsi criticized US dealings with the Arab world, saying it is not possible to judge Egyptian behavior and decision-making by American cultural standards. He said Washington earned ill will in the region in the past by backing dictators and taking "a very clear" biased approach against the Palestinians and for Israel.
---