Obama: Nations must 'honestly address' tensions
In an speech on Tuesday at the United Nations, President Barack Obama touched on issues such as the Syrian civil war and the Israeli-Palestinian conflict without offering any new solutions. He also urged free speech and an end to 'mindless violence.'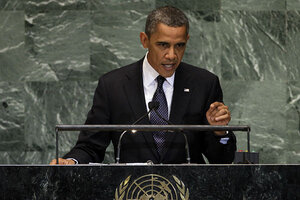 AP Photo/Richard Drew
President Barack Obama urged world leaders on Tuesday to put an end to the intolerance and violence that led to the recent killing of the U.S. ambassador in Libya and warned Iran he would do what it takes to prevent Tehran from getting nuclear arms.
In a 30-minute address to the 193-nation U.N. General Assembly, Obama called anew for the ouster of Syrian President Bashar al-Assad following an 18-month civil war without saying how to make it happen. He also offered no fresh ideas on solving the Israeli-Palestinian conflict.
Beginning and ending his remarks by evoking Christopher Stevens, the U.S. ambassador to Libya who died with three other Americans in a Sept. 11 assault on the American Consulate in Benghazi, Obama called on nations to fight such violence.
"Today, we must affirm that our future will be determined by people like Chris Stevens, and not by his killers," said Obama, who seeks re-election on Nov. 6. "Today, we must declare that this violence and intolerance has no place among our United Nations."
---