Georgia's parliament changes hands, this time without a revolution
For the first time in Georgia's post-Soviet history, the country will get a new government via an election that has been deemed fair by international monitors.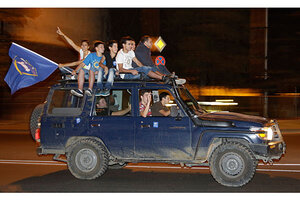 Efrem Lukatsky/AP
Defying expectations, President Mikhail Saakashvili conceded Tuesday that his party had lost Georgia's parliamentary election and his opponent had the right to become prime minister, setting the stage for political turmoil in the final year of his presidency.
The new Georgian government will be led by billionaire businessman and philanthropist Bidzina Ivanishvili, who made his fortune in Russia and until recently was little known to the 4.5 million people in his homeland on the Black Sea.
In one notable accomplishment, it was the first time in Georgia's post-Soviet history that the government changed by the ballot box rather than through revolution. Saakashvili came to power through the peaceful Rose Revolution after a rigged parliamentary vote in 2003.
By conceding defeat even before the results of Monday's election were released, the 44-year-old Saakashvili defied the opposition's expectations that he would cling to power at all costs and preserved his legacy as a pro-Western leader who brought democracy to the former Soviet republic.
He also prevented potential violence on the emotionally charged streets of the capital, Tbilisi, where support for the opposition Georgian Dream coalition is strongest. Opposition supporters began celebrating as soon as the polls closed, and the mood could have turned ugly very quickly if they thought they were being deprived of a victory.
The 56-year-old Ivanishvili, meanwhile, went immediately on the attack. Speaking at a televised news conference, he declared that most of the president's widely praised reforms were a joke and said Saakashvili had deceived the Americans into believing he was a democrat. He then called on Saakashvili to resign.
---