How Abu Hamza's extradition could create a mess for Obama
The extradition of Abu Hamza al-Masri and four other Islamic militants from Britain to the United States comes with a number of conditions, which could create political problems for President Barack Obama as the presidential election nears.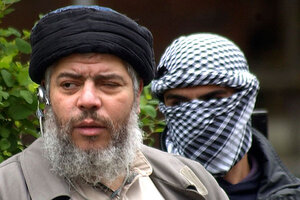 Max Nash/AP/File
The British government's imminent move to extradite five prominent Islamic militants to the United States for trial could trigger security and political headaches for President Barack Obama and his administration.
After years of appeals, two British judges gave final legal sanction on Friday to the extradition of the militants, who include a one-time U.K.-based spokesman for late al Qaeda leader Osama bin Laden and a notorious hook-handed imam who once preached at a big London mosque.
Under the terms of British and European court rulings authorizing the extradition, they must be tried in U.S. civilian courts and federal prosecutors cannot seek the death penalty.
"We're extremely pleased that the extradition proceedings in these cases have come to an end," said Dean Boyd, a Justice Department spokesman.
Some U.S. officials nonetheless remain concerned that if the five militants are tried in jurisdictions where they were indicted - New York City and Connecticut - this could ignite politically motivated debate about security threats and coddling of militants.
When it first took office, the Obama administration said it planned to close the U.S. detention facility at Guantanamo Bay, Cuba, and bring some of the most notorious militants held there, including alleged Sept. 11 conspirators, to trial in civilian courts. But this plan sparked political uproar and Congress approved legislation banning the transfer of Guantanamo detainees to the United States for trial.
---