Angela Merkel will face protests during Greek visit
German Chancellor Angela Merkel will visit Greece next week to discus keeping the country in the eurozone. Large displays against her are expected. Many Greeks blame Merkel's austerity measures for their nation's troubles.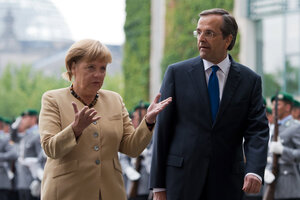 Maja Hitij/AP/File
German Chancellor Angela Merkel will tell Greeks she wants to keep their country in the euro when she visits Athens this week, but she faces a hostile reception from a people worn down by years of austerity and recession.
Many Greeks blame Merkel, who has publicly chastised them for much of the past three years, for the nation's plight. Opponents, some of whom have caricatured her as a bullying Nazi, have promised protests on Tuesday during her first visit to Greece since the euro zone crisis erupted there in 2009.
"She does not come to support Greece, which her policies have brought to the brink. She comes to save the corrupt, disgraced and servile political system," said Alexis Tsipras, who leads the opposition Syriza alliance. "We will give her the welcome she deserves."
---