Moderate Islamic preacher expected to unify Syrian opposition groups
On Sunday, Syria's fractured opposition groups came together to form a unified organization, the National Coalition for Syrian Revolutionary and Opposition Forces. Maath al-Khatib, a moderate Islamic preacher who has been imprisoned several times during the conflict in Syria, was elected president.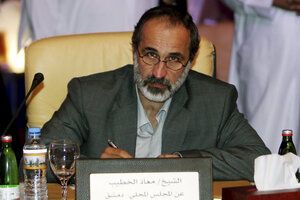 Osama Faisal/AP
A month after pro-democracy protests erupted in Syria, Sheikh Maath al-Khatib gave an electrifying speech to a crowd in Damascus mourning Sunni demonstrators shot dead by President Bashar al-Assad's Alawite security forces.
Ordinary Alawites, said the man chosen on Sunday to unite the country's fractured opposition, were not to blame for Syria's ills -- a message Western leaders hope he can relay to what is now an increasingly radical Sunni-led armed revolt.
---