Croatian generals' war crime convictions overturned
Ante Gotovina and Mladen Markac had been convicted of multiple crimes, including murder and deportation, committed during Croatia's 1995 ethnic cleansing campaign against Serbs.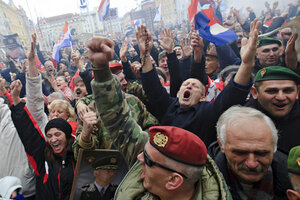 Nikola Solic/AP
The Yugoslav war crimes tribunal overturned the convictions of two Croat generals on Friday for murdering and illegally expelling Serb civilians in a 1995 military blitz, and ordered both men to be freed immediately.
The decision, by a 3-2 majority in the UN court's five-judge appeals chamber, is one of the most significant reversals in the court's 18-year history and overturns a verdict that dealt a blow to Croatia's self-image as a victim of atrocities, rather than a perpetrator, during the Balkan wars in the 1990s.
The ruling triggered scenes of rapture in court and among Croat war veterans watching the ruling on big screens in the capital, Zagreb, but also triggered fury in Serbia where it was seen as further evidence of anti-Serb bias at the tribunal. Even liberal Serbs warned it created a sense of injustice and could stir nationalist sentiments.
Neither Ante Gotovina nor Mladen Markac showed any emotion as Presiding Judge Theodor Meron told them they were free men, but their supporters in the court's packed public gallery cheered and clapped.
On a lawn outside the tribunal, supporters sang, waved a Croat flag and sipped champagne, while the generals were returned to their jail cells to complete release paperwork before being flown back to Croatia, likely Friday afternoon.
A convoy of minibuses with a police escort sped out of the jail in the early afternoon, believed to be carrying the generals to an airport.
"I think right now what he wants to do is go home to his wife, his little boy, his daughter," said Mr. Gotovina's American lawyer, Greg Kehoe.
---