Gaza: Clinton works for truce 'in the days ahead'
With the fighting in Gaza ongoing, U.S. Secretary of State Hillary Clinton spoke with Israeli Prime Minister Benjamin Netanyahu in Jerusalem early Wednesday. Meanwhile, emphasizing their support for the Palestinians, a group of Arab ministers visited Gaza.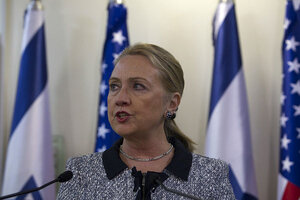 AP Photo/Baz Ratner, Pool
Israeli air strikes shook the Gaza Strip and Palestinian rockets struck across the border as U.S. Secretary of State Hillary Clinton held talks in Jerusalem in the early hours of Wednesday, seeking a truce that can hold back Israel's ground troops.
Hamas, the Islamist movement controlling Gaza, and Egypt, whose new, Islamist government is trying to broker a truce, had floated hopes for a ceasefire by late Tuesday; but by the time Clinton met Israeli Prime Minister Benjamin Netanyahu it was clear there would be more argument, and more violence, first.
Hamas leaders in Cairo accused the Jewish state of failing to respond to proposals and said an announcement on holding fire would not come before daylight on Wednesday. Israel Radio quoted an Israeli official saying a truce was held up due to "a last-minute delay in the understandings between Hamas and Israel".
An initial halt to attacks may, however, not see the sides stand their forces down from battle stations immediately; Clinton, who flies to Cairo to see Egyptian President Mohamed Mursi later on Wednesday, spoke of a deal "in the days ahead".
---