In Goma thousands of Congolese army, police, defect to rebel side
On Tuesday, the M23 rebels seized control of Goma, a key city in eastern Congo. Congolese soldiers and police have joined the rebels in droves. The presidents of Congo and Rwanda, which is said to back the M23, held emergency talks about the situation.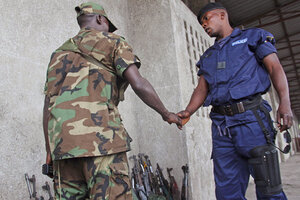 Melanie Gouby/AP
Thousands of Congolese soldiers and policemen defected to the M23 rebels Wednesday, as rebel leaders vowed to take control of all Congo, including the capital Kinshasa.
"We are now going to Kinshasa. No one will divide this country," said Col. Vianney Kazarama, the M23 spokesman, to a cheering crowd of thousands.
The rebels organized the rally at Goma's Stadium of Volcanoes after seizing control of the strategic city in eastern Congo Tuesday.
Kazarama first welcomed the crowd in Swahili by shouting "Goma Jambo !" meaning "Hello Goma!"
Kazarama said the M23 rebels' next goal is Bukavu, the capital of South Kivu province on the other side of Lake Kivu. He claimed the rebels already control the town of Sake, 27 kilometers (17 miles) from Goma on the road to Bukavu, and will soon take Minova, a lakeside town in South Kivu.
More than 2,100 army troops and 700 police turned in their weapons, according to M23's Col. Seraphin Mirindi. The former army troops and policemen piled up their arms and ammunition in the stadium.
In Bukavu people are already demonstrating against the Kinshasa government and in support of the rebels, according to local residents reached by phone.
The Congo soldiers remaining in the government army near Goma said they are not sure what to do.
"We are waiting for orders now. We don't know what we are supposed to do. It's hard. My comrades who defected in Goma, we're going to fight them," said a Congolese army major reached by phone in Kanyabayonga, 106 kilometers (66 miles) to the south, where the troops have regrouped. The major required anonymity because of the uncertain situation.
---