Russia, China warn North Korea about potential rocket launch
The two Asian superpowers are trying to convince their small Communist neighbor that launching another rocket is not in its best interest.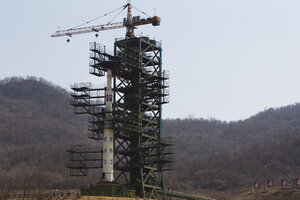 David Guttenfelder/AP/File
Russia and China urged North Korea on Monday not to go ahead with a plan for its second rocket launch of 2012, with Moscow saying any such move would violate restrictions imposed by the U.N. Security Council.
North Korea's state news agency on Saturday announced the decision to launch another space satellite and reportedly told neighbors it would take a similar path to that planned for a failed rocket launch in April.
"We urgently appeal to the government (of North Korea) to reconsider the decision to launch a rocket," the Russian Foreign Ministry said in a statement.
North Korea on Monday notified the U.N. shipping agency, the International Maritime Organization, about the launch, which was scheduled to take place between Dec. 10 and Dec. 22 at between 1600 and 2100 hours GMT.
---