Typhoon kills nearly 350 in Philippines
Officials in the southeast Asian nation announced Thursday that even emergency shelters were no match for the large storm.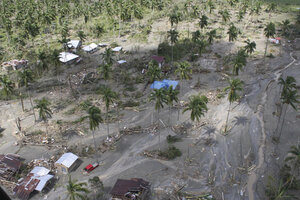 Philippine Army/REUTERS
A powerful typhoon that washed away emergency shelters, a military camp and possibly entire families in the southern Philippines has killed almost 350 people with nearly 400 missing, authorities said Thursday.
More bodies were retrieved from hardest-hit Compostela Valley and Davao Oriental provinces and six others impacted by Tuesday's storm, the Office of Civil Defense reported.
At least 200 of the victims died in Compostela Valley alone, including 78 villagers and soldiers who perished in a flash flood that swamped two emergency shelters and a military camp.
"Entire families may have been washed away," said Interior Secretary Mar Roxas, who visited New Bataan on Wednesday. The farming town of 45,000 people was a muddy wasteland of collapsed houses and coconut and banana trees felled by ferocious winds.
Bodies of victims were laid on the ground for viewing by people searching for missing relatives. Some were badly mangled after being dragged by raging floodwaters over rocks and other debris. A man sprayed insecticide on the remains to keep away swarms of flies.
A father wept when he found the body of his child after lifting a plastic cover. A mother, meanwhile, went away in tears, unable to find her missing children. "I have three children," she said repeatedly, flashing three fingers before a TV cameraman.
Two men carried the mud-caked body of an unidentified girl that was covered with coconut leaves on a makeshift stretcher made from a blanket and wooden poles.
---