North Korea ignores international opposition, launches rocket
Despite U.N. sanctions and international warnings, North Korea launched a long-range rocket on Wednesday. Most analysts agree the move was intended to bolster national support for Kim Jong-un.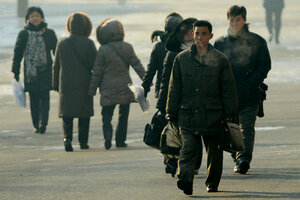 AP Photo/Kyodo News
Isolated and impoverished North Korea launched its second long-range rocket of 2012 on Wednesday and may have finally succeeded in putting a satellite into space, the stated aim of what critics say is a disguised ballistic missile test.
The rocket was launched just before 10 a.m. Korean time (0100 GMT) and overflew the Japanese island of Okinawa.
A rocket launch by North Korea in April was aborted after less than two minutes flight. Wednesday's launch came after the North carried out repairs on the rocket, which South Korean officials said had been removed from its gantry on Monday.
Both South Korea and Japan called meetings of their top security councils after the launch and Japan said it could not tolerate the action. Japanese television station NHK said the second stage of the rocket had crashed into seas off the Philippines as planned.
It was not immediately clear if the third stage carrying the satellite had made it into space.
"Whether the satellite launch (orbit) itself succeeds or not, it is a success for North Korea anyway," said Kim Young-soo, a North Korea expert at Sogang University in South Korea.
There was no immediate annoucement from North Korea on the launch. It made a formal announcement when the April launch had failed, but has previously claimed that it put a satellite into space in 2009, something no one has been able to verify.
"We will convene an emergency security meeting at 10:30. The launch was made around 9.50 a.m.," an official at South Korea's presidential office in Seoul said.
---