Opening of upscale hotels marks turning point in Haiti's reconstruction
Several hotels are scheduled to open or begin construction over the next few months in Haiti, raising expectations of the country's recovery from the devastating 2010 earthquake.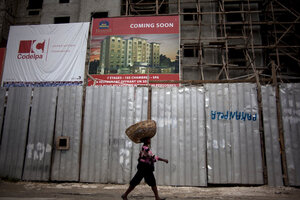 Ramon Espinosa/AP
The opening of the upscale Royal Oasis Hotel in Haiti on Wednesday ushered in a new phase in the country's post-earthquake reconstruction, while providing a sharp contrast to the plight of hundreds of thousands still homeless almost three years after the disaster.
The elite Oasis hotel in Petionville, a business and social hub in the hills south of Port-au-Prince, is part of the Occidental hotel chain and is the first in a string of international brand-name hotels opening in the coming months.
---