Israeli Defense Minister Lieberman resigns after criminal charge
Mr. Lieberman denies the charge and says he is resigning to clear his name. But his resignation may impact Prime Minister Benjamin Netanyahu's reelection chances.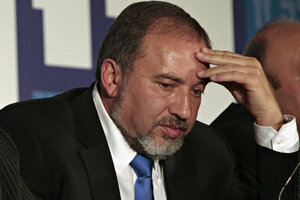 Baz Ratner/Reuters/File
Israel's powerful foreign minister announced his resignation from government Friday, a day after an indictment for breach of trust was filed against him by the country's attorney general, in a move that shakes up the election campaign and heavily impacts Prime Minister Benjamin Netanyahu's election calculations.
Avigdor Lieberman continued to maintain his innocence in a statement and indicated that he could return to politics in time for the national elections in January if he was cleared or could reach a plea bargain.
"Even though I know I did not break any law ... I have decided to resign from my position as foreign minister and deputy prime minister," Mr. Lieberman said. "After 16 years of investigations against me I can end this issue quickly without delay and completely clear my name," he said.
Lieberman said he made the decision Friday after conferring with his lawyers and with his election campaign staff. "I am doing this because I am convinced that Israel's citizens should be able to go to the polls after this matter has been settled ... and I can continue to serve the state of Israel and Israel's citizens as part of a strong united leadership that will cope with the security, economic and political challenges it faces," he said.
Lieberman was charged Thursday with breach of trust in a fraud and money-laundering case threatening to upend the Israeli political system just a month before parliamentary elections.
---