Venezuelans vote for state governors, while questions about Chavez's health swirl
On the day of elections for 23 state governorships, which could shake up the opposition, Venezuelans seemed more focused on President Hugo Chavez's recovery from a cancer-related operation he underwent in Cuba last week.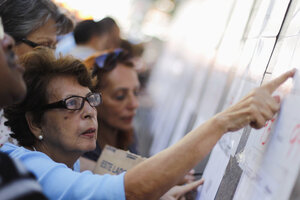 Carlos Garcia Rawlins/Reuters
Venezuelans vote on Sunday in state elections that will define the future of opposition leader Henrique Capriles and test political forces ahead of a possible new presidential vote if Hugo Chavez is incapacitated by cancer.
The vote for 23 state governorships, seven of which are currently controlled by the opposition, has been overshadowed by the president's battle to recover from cancer surgery in Cuba.
Capriles, 40, needs to hold on to the governorship of Miranda state to remain the opposition's presidential candidate-in-waiting, while both sides will want a good showing to create momentum in case of a new showdown over who replaces Chavez.
"This is the best indication of how well the opposition will fare in an upcoming contest for the presidency between Henrique Capriles and designated Chavez dauphin Vice President Nicolas Maduro," said Russell Dallen ofCaracas-based BBO Financial Services.
---