India rape case: Will protests finally spark change?
A gang-rape in Delhi, India, that resulted in the death of a university student has prompted nationwide protests that activists hope will change a culture in which harassment and violence is said to be common.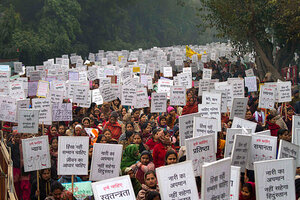 Dar Yasin/AP/File
Preeti Singh worries each time her 20-year-old daughter has a late night at the hospital where she's a medical student. If her daughter has to stay late, Singh tells her to wait for daylight to come home.
"I was brought up with the fear that once it's dark you should be at home," says Singh, a 43-year-old kindergarten teacher in Bangalore, India's technology hub. "I can't shake that fear."
Across India, women tell similar stories. Now there is hope for change.
For decades, women have had little choice but to walk away when groped in a crowded bus or train, or to simply cringe as someone tosses an obscene comment their way. Even if they haven't experienced explicit sexual abuse themselves, they live with the fear that it could happen to them or a loved one.
The gang rape and beating of a 23-year-old university student on a moving bus in India's capital has taken sexual violence — a subject long hidden in the shadows of Indian society — and thrust it into the light.
Following the Dec. 16 attack in New Delhi, which resulted in the woman's death, hundreds of thousands of Indians — both men and women — poured onto the streets of cities across the country, holding candlelight vigils and rallies demanding that authorities take tougher action to create a safe environment for women.
"At least now people are talking," says Rashmi Gogia, a 35-year-old receptionist in a New Delhi law office.
Associated Press journalists interviewed women across India, from the northern cities of Lucknow and Allahabad, to Bangalore in the south, and from the eastern cities of Patna and Gauhati to Ahmadabad in the west.
---