France beefs up security in wake of Mali intervention
French soldiers are patrolling at some of the country's most recognizable tourist destinations and institutions, following weekend air strikes against Islamist rebels in the former French colony of Mali.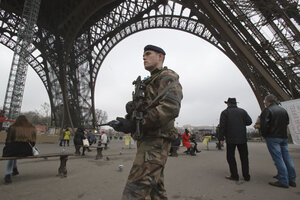 Michel Euler/AP
Armed soldiers are on guard in Paris' subways, train stations and some of the world's most recognizable monuments to head off terror attacks after France's military launched an operation to push back al-Qaeda-linked insurgents in Mali.
Since the operation in Mali began on Friday, the soldiers have reinforced already tight security with a far more visible presence, patrolling in small groups at malls, beneath the Eiffel Tower and outside the Louvre. Security forces stand in twos and threes on subway platforms, patrolling through the pedestrian tunnels and airports in black or camouflage, as part of the national "Vigipirate" program.
Interior Minister Manuel Valls said France is well aware of the dangers of attacks from terrorists angry over the intervention. But he said he believed the long-term threat posed by the advance of militant Islamist fighters in Mali was far greater, because the country could become a potential training ground for terrorists.
Declaring France had "opened the gates of hell" with its assault, the rebels from the Sahel desert region that includes Mali threatened retribution on Monday.
---