Death sentences in Egyptian soccer violence case spark riot, killing dozens
A riot immediately broke out after an Egyptian court sentenced 21 people to death in the controversial Port Said soccer violence case. Police and soccer fans known as Ultras clashed outside the prison where the defendants were being held. At least 16 were killed and hundreds wounded.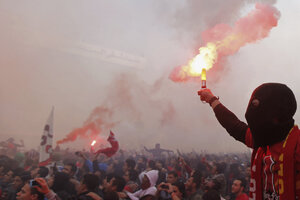 Amr Abdallah Dalsh/Reuters
An Egyptian court sentenced 21 people to death Saturday on charges related to one of the world's deadliest incidents of soccer violence, touching off an attempted jailbreak and a riot that killed at least 16 in the Mediterranean port city that is home to most of the defendants.
The verdict follows deadly clashes between police and demonstrators on Friday, the second anniversary of the uprising that overthrew longtime leader Hosni Mubarak. Such cycles of violence, often lasting for weeks and costing dozens of lives, have occurred regularly over the past two years.
Die-hard soccer fans from both teams, known as Ultras, hold the police at least partially responsible for the Port Said deaths and criticize Egypt's President Mohammed Morsi for doing little to reform the force.
Al-Ahly Ultras in particular have been at the forefront of protests. But anger also is boiling in Port Said, where residents say they have been unfairly scapegoated.
Immediately after the verdict, two police were shot dead outside Port Said's main prison when angry relatives tried to storm the facility to free the defendants. Police fired tear gas and rubber bullets, as well as live rounds, at the crowd outside the prison, killing 14, security officials said. Hundreds were wounded. They spoke on condition of anonymity in line with regulations.
Security officials said the military is being deployed to Port Said — the second such deployment in less than 24 hours. The army was widely used to keep order by top generals who took over after Mubarak, but the military has kept a much lower profile since Morsi was elected as president in June.
---