19 killed in suicide bombing targeting government-linked Shiite militia
The attack – the seventh suicide bombing in a month – seems to be an attempt by Sunni insurgents to destabilize Iraq's Shiite-led government.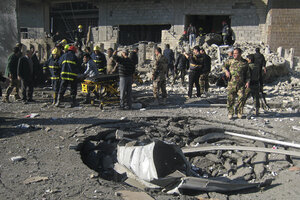 Emad Matti/AP
A suicide bomber attacked a government-backed militia north of Baghdad on Monday, killing at least 19 people in an apparent attempt by Sunni insurgents to stoke unrest against Iraq's Shiite prime minister, Nouri al-Maliki.
Police said the bomber had infiltrated a meeting of Sahwa tribal fighters and detonated his explosives as they were gathering to pick up salaries in Taji, a town 20 km (12 miles) north of the capital.
The seventh suicide bombing in a month was part of an surge in violence a year after US troops pulled out of the OPEC oil producer, where Shiite, Sunni and ethnic Kurdish factions still struggle over how to share power.
"We got a call they had been a huge blast on the Sahwa headquarters in Taji. The Sahwa were there to collect their pay," said local police commissioner Furat Faleh. "When we rushed to the hall ... people were lying bleeding all around and cash was scattered in pools of blood."
---