Afghanistan, Pakistan, and UK call Taliban to negotiating table
Afghan and Pakistani leaders traveled to London to discuss restarting talks with the Taliban. The countries decided to open offices in Qatar to facilitate talks.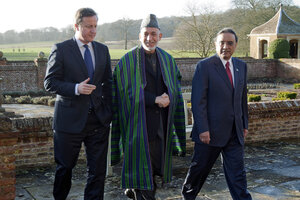 David Parker, NPA / AP
The leaders of Britain, Afghanistan and Pakistan on Monday pushed for the Taliban to come to the table for peace talks to end Afghanistan's protracted conflict and gave themselves a six-month deadline to get a deal.
British Prime Minister David Cameron hosted Afghanistan's President Hamid Karzai and Pakistan's President Asif Zardari for trilateral talks on Afghanistan's floundering peace and reconciliation process.
Attempts at peace have faltered even as international forces prepare to withdraw from the country in 2014. Mr. Karzai is attempting to draw the Taliban back to negotiations toward a deal between the government and the insurgency.
As part of the effort, the three leaders agreed to open an office in Qatar's capital for negotiations, believing that the Taliban are softening their hardline stance against discussions.
The leaders set out a six month timeline for peace and committed themselves to "take all necessary measures to achieve the goal," a statement from Mr. Cameron's office said following the talks.
The meeting was the third in a series of trilateral meetings convened by Cameron.
Earlier, Karzai said in an interview with the UK's Guardian and ITV News that security in the southern Helmand province was better before the arrival of British troops, saying it's possible western forces are being drawn down in Afghanistan because international leaders realized "they were fighting in the wrong place" and that he expects fighting to diminish once NATO forces withdraw.
---