Syrian opposition leader extends talks offer to Assad regime
The Syrian National Coalition leader yesterday nailed down details of his offer of talks, first proposed last month. The UN called the offer 'the most promising thing we've heard on Syria recently.'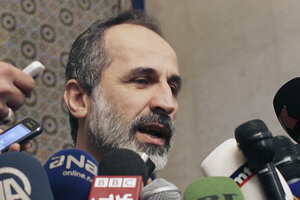 Asmaa Waguih/REUTERS
Syrian National Coalition leader Moaz Alkhatib said yesterday he was willing to hold talks with President Bashar al-Assad's representatives in rebel-held areas of northern Syria to try to end a conflict that has killed about 60,000 people.
The aim of the talks would be to find a way for Assad to leave power with the "minimum of bloodshed and destruction," Mr. Alkhatib said in a statement published on his Facebook page.
Sources in the coalition, an umbrella group of opposition political forces, said that Alkhatib, a moderate cleric from Damascus, met international Syria envoy Lakhdar Brahimi in Cairo yesterday.
Mr. Brahimi played a main role in organizing meetings between Alkhatib and the foreign ministers of Russia and Iran, Assad's main supporters, in Munich last week.
The sources said that in their talks yesterday the two men addressed the question of whether the coalition would formally endorse Alkhatib's peace initiative.
The Muslim Brotherhood, which controls a large bloc within the Islamist-dominated coalition, is against the initiative.
---